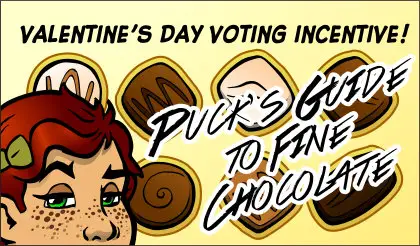 Voting Incentive: PUCK'S GUIDE TO "FINE" CHOCOLATE!
A new St. Patrick's Day voting incentive should be popping up when March starts this Sunday, but until then, it's the dying days of the Valentine's Day voting incentive.
CLICK HERE TO VOTE FOR PUCK! IT'S SATISFYING LIKE CHUCKLAT!
As for this comic…
I don't have much to say. My wife thinks Phoebe's outfit is insane, but that's par for the course. "How does her clothing even stay on?" she always asks. I sometimes get a little defensive on that front. Phoebe's clothing is always physically possible. It's highly improbable, but impossible it's not. I leave the impossible costume designs up to those anime guys; they're good at them.