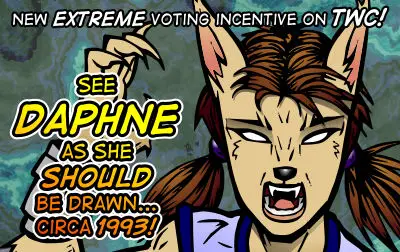 VOTING INCENTIVE: DAPHNE GOES EXTREME!!!!!!
Alas, I've been running a little late on the voting incentives because of the time I've been spending trying to generate the Puck book. (It's been a bit of a nightmare, but it's coming together at long last.) That said, remember to vote on August 1st to see the Liefeldian Puck comic cover with all of the characters, including 90's comic Colin.
CLICK HERE TO VOTE FOR PUCK!!!
As for this comic…
Whoa, check it out! Plot! We haven't seen stereotypical mobster Tony Bruno since his ill-fated attempt to run for mayor, but he's never far from our hearts. He's only back for this one comic, though, so get your fill of pinstripes while you can!