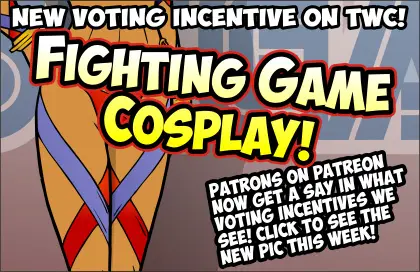 NEW VOTING INCENTIVE!!! FIGHTING GAME COSPLAY!!!
Have you ever wanted to see some of the Puck cast dressed as characters from fighting games? NO? Well, someone did! Whichi is why you're seeing this! Patrons on Patreon who pledge $5 or more a month get a personal say in what incentives are coming your way! If YOU want to put your two cents in, then my HEAD ON OVER TO PATREON and join the select club!
As for this comic…
Ambiance is one of the first post-baby casualties, accompanied by sleep and the ability to go poop in peace. But it's a minor casualty, really. We miss ambiance, but we didn't go to his funeral; we just sent a condolence letter in the mail.