Puck 341
on 
June 6, 2016
at 
9:52 pm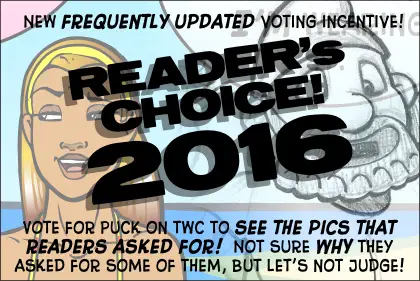 NEW VOTING INCENTIVES THROUGHOUT JUNE READER'S CHOICE 2016!!!
There's a new voting incentive up on TWC! It's READER'S CHOICE 2016! Where I take the suggestions from YOU, the reader (or some other weirdo) and turn them into sketches or finished pics! A new one goes up every few days, so vote often!
CLICK HERE TO MAKE LEARNING FUN!
As for this comic…
This marks the last time I think I'll ever need to draw Puck in this ridiculous outfit. Part of me is sad, but most of me is very, very relieved.