Puck 417
on 
November 20, 2017
at 
10:01 pm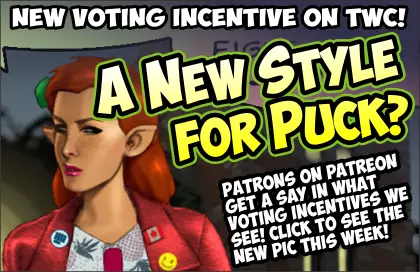 NEW VOTING INCENTIVE!!! A NEW STYLE FOR PUCK?!?
Someone gots a special guest artist to do this new voting incentive! See what this comic might look like if it were drawn by a real artist! (And remember: fans who donate $5 or more a month get a say in what voting incentives run! If you want to join their controlling ranks, HEAD ON OVER TO PATREON and join the select club!)
VOTE FOR PUCK BECAUSE I'M DESPERATE!!!
As for this comic…
I have to admit that having a comic where two characters just float in a nebulous sea of colors is WAY easier to create than my usual stuff. I might need to make the comic set inside nebulous seas of color more often!
NB: This comic explains at least in part why Mr. T is so tall here. He looms larger than life in Colin's mind; ergo, that's how he would appear. In real life, Mr. T would be exactly the same height as Colin.