Puck 551
on 
June 15, 2020
at 
9:17 pm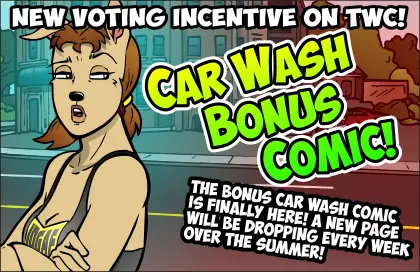 THE BONUS STORY ARC COMIC CONTINUES! PAGE 3 UP NOW!
After two years of what the movie folks call 'development hell', the Car Wash bonus comic is ready for release! I initially planned this thing to be a print-only comic that would conclude Puck Volume 2, but then Puck Volume Two never really happened due to low (to no) demand, so now I'm putting it as a voting incentive! Yay! Every week will bring a new page, and new pages will be dropping all summer, so please…
VOTE TO WASH THAT CAR REAL GOOD!