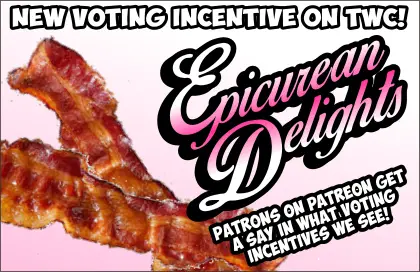 FOOD-THEMED VOTING INCENTIVES!!!
The Patreon bunch voted on various food choices, and the results were … this. So…
VOTE TO PARTAKE OF THE FEAST!!!
As for this comic…
Betcha didn't think the monkey bears were coming back. But if there's one thing we're good at doing here, it's taking a throwaway gag from a single comic and expanding it into an overused trope! Like Garfield and lasagna. That was a punch line from an early Garfield comic, and a good one. Cuz, you know, what cat's favorite food is lasagna? But four decades later, just thinking about Garfield and lasagna makes me sad.