Puck 184
on 
May 27, 2013
at 
6:47 pm
JUNE VOTING INCENTIVE IS IN THE HOUSE!!!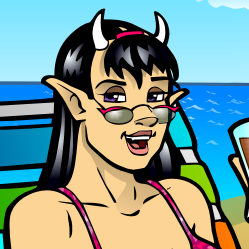 The warm weather is here, the parkas have come off, and it's time to celebrate all that swimwear has to offer. Hit the beach with Phoebe! A vote for Puck on TWC will get you access to this rather special pic – guaranteed to include all of the following: sun, surf, sand, bikini, and palm tree. In no particular order.
This particular voting incentive is no longer up on TWC, but you can GET IT AT THE STORE, along with all the other incentives, for a few bucks!
I have … nothing witty to add here.
FYI, Next week's comic is going to be a guest strip from one of my favourite comic artists, which I am insanely pumped for.
Also, this Saturday marks the start of June and a new voting incentive! This one is going to be a classic: Phoebe! In a bikini! On the beach! Simple, seasonal and saucy! Until then, though…