Puck 185 – Guest Comic
on 
June 3, 2013
at 
9:46 pm
Can you say … GUEST COMIC?!?
When I put out an emergency call for a Puck guest comic, I was thrilled to get a response from Emily Ivie (aka mleiv), who is honestly one of my favourite comic artists. Why do I love her work so much? Well, her completed comic The Locked Maze is a thing of beauty. Her newer comic Rotsterarsil (which might now be on indefinite hiatus) is equally wonderful. Her work on Emily & The Strangers, a Dark Horse title, is … well, amazing. Put simply, she's great, and she's a major inspiration to me. And now she's illustrated a Puck strip. My head asplode.
Look at this thing! Dramatic angles! Crazy perspective! The types of shots that I don't draw because they're just too HARD! And Phoebe's wearing leather pants! LEATHER PANTS! How have I let over 180 strips go by without putting Phoebe in leather pants? That obvious oversight has now been addressed.
You can probably tell that the strip was written by me. It has that definitive Gecko humor, for good or for ill. Oh, and for once, I cannot explain Daphne's shirt for you, because this one was Emily's idea.
JUNE VOTING INCENTIVE IS IN THE HOUSE!!!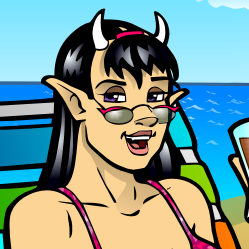 The warm weather is here, the parkas have come off, and it's time to celebrate all that swimwear has to offer. Hit the beach with Phoebe! A vote for Puck on TWC will get you access to this rather special pic – guaranteed to include all of the following: sun, surf, sand, bikini, and palm tree. In no particular order.
This particular voting incentive is no longer up on TWC, but you can GET IT AT THE STORE, along with all the other incentives, for a few bucks!