Just once I want to play an FPS where one of the weapons is a fully loaded baby. Man, those Cacodemons wouldn't stand a chance!
Next week, my gauntlet of painful 'professional development' courses finally comes to an end with a major term paper, which I still need to write. In order to make that happen, Bill Taylor from Tripp has kindly completed a guest comic, which will run next week. In actual fact, Bill completed it many months ago and had the foresight to make it fit with post-baby continuity. That's because Bill Taylor is superhuman. No, seriously. He is.
DECEMBER VOTING INCENTIVE: ROB FORD VS. SATAN?!?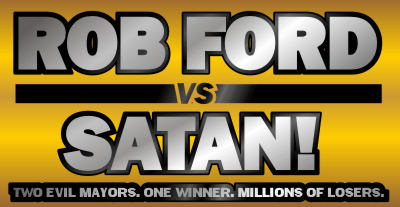 In a competition of evil, which frightening mayor in southern Ontario would actually win? I had to do this. Do you know how often I can pull off a joke about local municipal politics and have an international audience get the joke? Never. Until now.
CLICK HERE TO VOTE FOR PUCK!!!