Puck 247
on 
August 18, 2014
at 
9:39 pm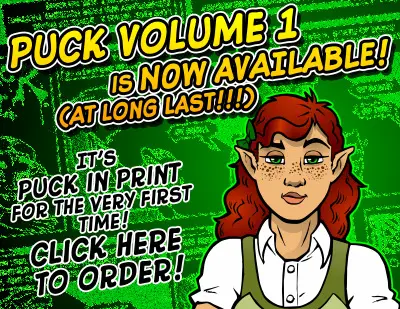 BIG NEWS!!! THE PUCK BOOK IS READY AT LAST, DAMNIT!!!
It's been many months in the making, but I've finally got the Puck book up and ready for orders! It's in color, it's big, it's beautiful, and it's only $24.99! It includes +200 comics and a bunch of never before seen extras documenting the early stages of Puck's creation. For instance, did you know that at an earlier stage of development, Phoebe had goat legs? And for a brief period in history, Puck and Phoebe were a pair of futuristic buddy cops? It's all in the book!
CLICK HERE TO GET YOUR COPY OF PUCK VOLUME 1 IN A MATTER OF DAYS! (Seriously, the shipping is super fast.)
ALSO…
VOTING INCENTIVE: PUCKFORCE COVER!!!!!!
A new Puck voting incentive is up on TWC! Vote for Puck to see an authentic-type cover for PUCKFORCE, complete with lots of 90's flair! It's like a time machine … for your MIND!!!!
CLICK HERE TO VOTE FOR PUCK!!! GUARANTEED STUPID OR YOUR MONEY BACK!
As for this comic…
Just wanted to check in on Sigmund for one strip. Not that anyone really cares about him, but it's nice to know he's not suffering.
Next week will likely mark the return of Puck to her own comic, which I know has been a long time coming. (95% chance of Puck! 5% chance that I come up with a funnier idea between then and now that doesn't include Puck!)