Puck 275
on 
March 2, 2015
at 
9:45 pm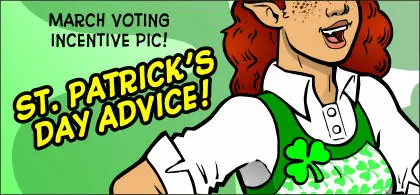 A new Puck voting incentive is up right now on TWC! Vote to get critical St. Patrick's Day advice from Puck herself!
CLICK HERE TO VOTE FOR PUCK! THE LEPRECHAUN TOLD YOU TO!
And here (finally) ends this storyline. I thought it good that we had a word or two from Colin to provide some closure. And it's been a while since they've been sitting in bed, so I felt like it was time to bring that old trope back. Reminds me of Blondie and Dagwood. Always struck me as slightly naughty of Blondie and Dagwood to sit in bed with Blondie's shoulder strap always falling down, though their conversation never actually wandered into sexual territory. Puck and Colin are tad different, of course.