Puck 276
on 
March 9, 2015
at 
9:15 pm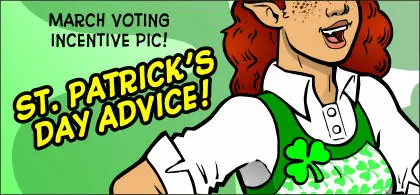 Puck voting incentive on TWC! Vote to get critical St. Patrick's Day advice from Puck herself!
CLICK HERE TO VOTE FOR PUCK! THE LEPRECHAUN TOLD YOU TO!
As for this comic…
Until now, Miranda had never been shown without a hat. Now we know the reason.
My wife was taken aback by this comic a little. "Wow, that baby is suddenly a few months older," she noted. Which is true, I guess. This represents a soft time jump in the comic. Really, though, it's just a matter of practicality. It's well nigh impossible to draw or accurately depict the steady, slow development of a baby from teeny infant to toddler. It's much easier to just go for the shorthand and draw the kid at a few key stages, skipping the in-between parts. Hey, at least it's not as bad as soaps or sitcoms, where kids can grow up seemingly in a matter of days.
And for the record, both of my kids sported this unique, entirely natural hairstyle for a good while. They grew out of it, but the memories remain.