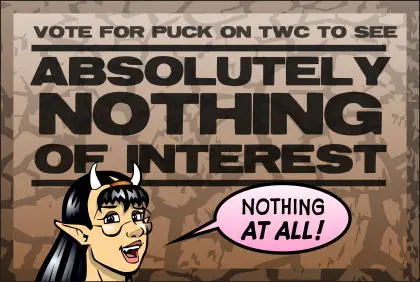 NEW APRIL VOTING INCENTIVE! NOTHING INTERESTING!
Seriously, man, there's nothing interesting to see if you vote. What, don't you trust me? VOTE EVEN WHEN THERE'S NO REAL MOTIVATION FOR YOU TO DO SO!!!
And in other news…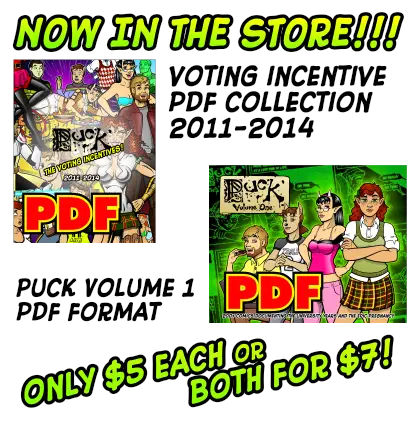 PDF BOOKS ARE HERE!!!
I wanted to streamline the offerings in my store (which were getting a little silly), and so I've created two great PDF books available for digital download. The Puck Volume 1 PDF contains an exact copy of the print book (containing 200+ comics in high resolution, along with extras), and the new Puck Incentives PDF book contains all the incentive pics I ever ran on TWC from 2011 to 2014 – in high res, no less, along with commentary! You can get both books for seven bucks, or buy them individually for five. Check 'em out at the store!
And as for this comic…
Here we are, at the start of another story arc. This one isn't likely to run quite as long, but I have a number of funny ideas with this one. The only problem with this plan is the fact that I'm committing myself to drawing lots of difficult amusement park backgrounds over the next few months. But I think it'll be worth it. I dunno. I hope it'll be worth it. I'm not even sure what 'it' is worth, really.