Puck 299
on 
August 17, 2015
at 
10:19 pm
THE PUCK BOOK IS STILL ON SUPER SALE!!!
If you're vaguely interested in possibly owning a copy of the Puck book, well, now's your chance to take action! It's in color, it's big, it's beautiful, and NOW IT'S ONLY $18.99! It includes +200 comics and a bunch of never before seen extras documenting the early stages of Puck's creation. For instance, did you know that at an earlier stage of development, Phoebe had goat legs? And for a brief period in history, Puck and Phoebe were a pair of futuristic buddy cops? It's all in the book!
CLICK HERE TO GET YOUR COPY OF PUCK VOLUME 1 IN A MATTER OF DAYS! (Seriously, the shipping is super fast and if you're in the United States, shipping's pretty cheap too.)
ALSO…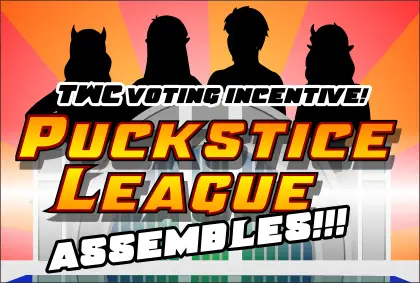 VOTING INCENTIVE! WHOLE LOTTA DC!!!
VOTE BEFORE ZACK SNYDER STICKS A 'V' IN IT!
As for the comic…
This is, if I remember correctly, the only comic in this series that doesn't contain Puck, Phoebe, Colin, Daphne or Satan. Hopefully it still works.