Puck 322
on 
January 25, 2016
at 
10:09 pm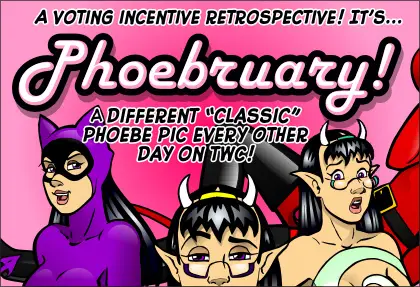 IT'S PHOEBRUARY! VOTE FOR PUCK ON TWC AND CELEBRATE!
I thought it was time to do a little retrospective, so here we go! I've been running constant voting incentives on TWC for years now, so dive into the vault and relive some real gems. Every couple of days this February, a new "classic" Phoebe voting incentive is popping up on TWC! If you never saw these pics the first time or you want to see 'em again, be sure to vote often and catch 'em all!
VOTE TO ALLEVIATE MINOR ACHES AND PAINS!
As for this comic…
If you're not North American, you won't know what A&W is. That's your loss, man. Best burgers ever. (Actually, I can only vouch for the Canadian A&W having the best burgers ever. The American and Canadian branches of the A&W company are apparently entirely separate and haven't had anything to do with each other in decades. So the American wing might have good burgers, but they also might suck. Like Arby's. Arby's in Canada is a pretty nice place: clean, tasty, affordable. Arby's in the U.S. is, well… sort of like something from a Mad Max movie.)