Puck 329
on 
March 14, 2016
at 
10:53 pm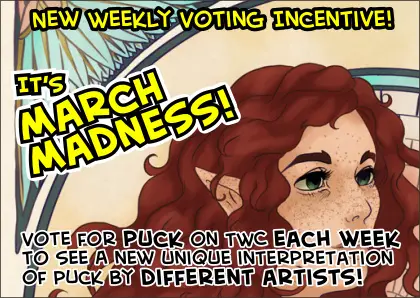 NEW TWC VOTING INCENTIVE! MARCH MADNESS!!!
This month (starting March 1st), a vote for Puck on TWC gets you a glimpse at some fantastic Puck art by fantastic artists that are not me! This week we've got a gorgeous Art Nouveau rendition of Puck by Vik Machacek, a super-talented artist whom I'm lucky enough to know.
VOTE WITH ALL THE STYLE AND CLASS OF THE 1920's! (It tastes like chicken!)
As for the comic…
Colin is as Colin does, man. That's all I have to say.
Next week all the various plot points finally unify and the various groups of characters assemble again for, like, the first time in over half a year! Oh well. It's terribly paced week to week, but it works as an assembled collection. Trust me.