Puck 337
on 
May 9, 2016
at 
9:51 pm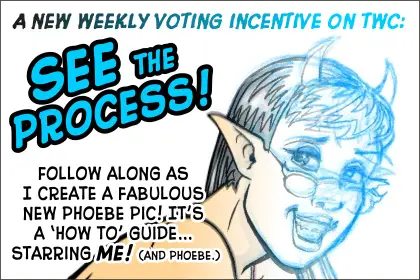 NEW WEEKLY VOTING INCENTIVE! SEE THE METHOD BEHIND THE MADNESS!!!
There's a new weekly voting incentive up on TWC! Each week in May, vote to follow along as I reveal both the method and the man behind Puck comics! Watch as I lead you through the many, many steps of drawing some classic Phoebe cheesecake for an upcoming ad. Plus, for the first time ever, you get to see what I look like! It's not a draw, but I'm making it sound like it is! Marketing!!!
CLICK HERE TO MAKE LEARNING FUN!
As for the comic…
Let's see how many standard Puck tropes this comic hits:
-Puck gets angry? Check!
-Puck is surrounded by red halo of rage? Check!
-Male characters (plus baby) hang back and basically do nothing? Check!
-Fourth panel contains a deadpan Phoebe reply line? Check!
-The joke hinges on character humor and is totally indecipherable to new readers? Check!
I hereby submit this particular comic as the most 'this comic' that this comic can be. That doesn't mean it's good. It just means that it's … this.