Puck 342
on 
June 13, 2016
at 
10:04 pm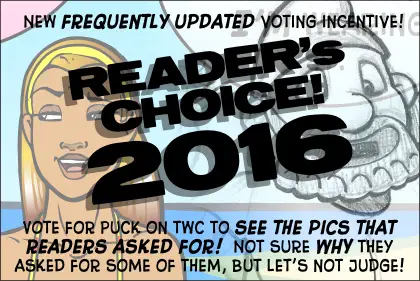 NEW VOTING INCENTIVES THROUGHOUT JUNE READER'S CHOICE 2016!!!
There's a new voting incentive up on TWC! It's READER'S CHOICE 2016! Where I take the suggestions from YOU, the reader (or some other weirdo) and turn them into sketches or finished pics! A new one goes up every few days, so vote often!
CLICK HERE TO MAKE LEARNING FUN!
EDIT: TWC is having massive problems right now with their redesigned site and they seem to be deleting every voting incentive I put up. So we'll see where this goes, but right now the newest pic might not show. The votes still count … I think, but I'm not sure.
As for this comic…
We're back on the couch playing video games! I haven't drawn anyone sitting on that old couch in fourteen months! How I missed you, duct tape.
Anyway, we're almost to the end of this lengthy story arc. Next week we get to the bottom of why Daphne actually wanted to steal the Shnorf in the first place. And maybe one or two more after that, but then … done! Onto something else entirely. (Something shorter this time.)