Puck 343
on 
June 20, 2016
at 
9:44 pm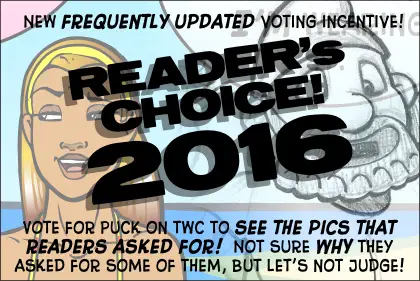 NEW VOTING INCENTIVES THROUGHOUT JUNE READER'S CHOICE 2016!!!
There's a new voting incentive up on TWC! It's READER'S CHOICE 2016! Where I take the suggestions from YOU, the reader (or some other weirdo) and turn them into sketches or finished pics! A new one's up this week, so check it out!
CLICK HERE TO MAKE LEARNING FUN!
As for this comic…
Thus concludes the Great Shnorf Debacle, and we find out the reason for the whole escapade. I think we can safely say that few saw this coming, but few will be overly surprised.
And just to be clear, in this universe you CAN go back on a deal with the devil. He's kind of a pushover, really. And yes, Satan IS using a vintage Motorola cell phone from the 80's. Because he's rad.