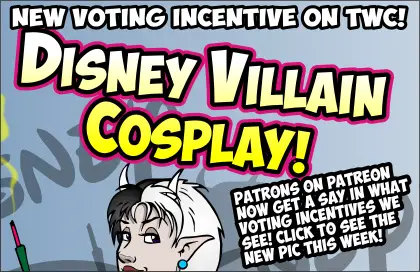 THE PATRONS HAVE TAKEN OVER!!!
That's right! The voting incentive pics are in the hands of the fans! Patrons on Patreon who pledge $5 or more a month get a personal say in what incentives are coming your way! If YOU want to put your two cents in, then my HEAD ON OVER TO PATREON and join the select club!
As for this comic…
Phoebe has long held the role of moralizer in this comic. In truth, she'd probably make a good preacher. Were it not for the horns.
Oh, and Daphne didn't disappear here; she's still somewhere nearby. I just honestly run out of room in these panels sometimes.