Puck 414
on 
October 30, 2017
at 
10:06 pm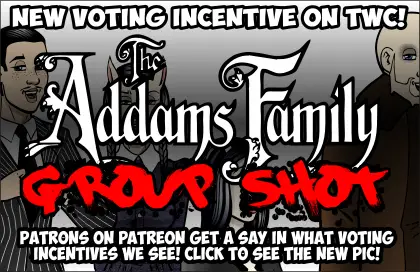 OCTOBER WEEKLY VOTING INCENTIVE!!! ADDAMS FAMILY COSPLAY!!!
A new (and pretty crazy) voting incentive's coming on Nov. 1, but until then, I put together this little group shot of this month's cosplay. Ooh, and remember, this voting incentive was chosen by special fans who donate $5 or more a month! If you want to join their controlling ranks, HEAD ON OVER TO PATREON and join the select club!
VOTE BECAUSE I REALLY NEED VOTES, MAN!!!
As for this comic…
This may or may not qualify as character growth. But it probably doesn't, because I'm writing it, and character growth sounds like something that's beyond my limited scope.
Minor note: I drew this entire comic, colored it, finished it, and was ready to post when I realized that I'd totally forgotten to put Miranda anywhere in the comic. She'd just disappeared. I'd done that before with some comics, but I'd often been able to explain it away by saying, "Oh, Miranda's probably just with her dad." But she couldn't be with Dad this time. I was stuck. So I added her in her little car seat carrier thing at Puck's feet. I don't sweat continuity that much, but some oversights just require fixing.