Puck 415
on 
November 6, 2017
at 
9:52 pm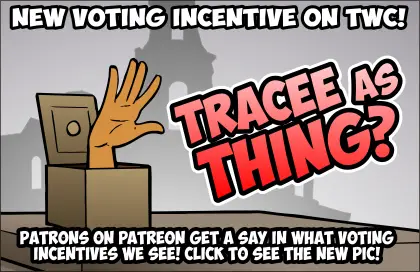 NEW VOTING INCENTIVE!!! ADDAMS FAMILY LAST HURRAH!!!
I promise this one's worth it. Ooh, and remember, this voting incentive was chosen by special fans who donate $5 or more a month! If you want to join their controlling ranks, HEAD ON OVER TO PATREON and join the select club!
VOTE TO GIVE US 'A HAND'!!! (Heh. That was awful.)
As for this comic…
I don't have much to say, beyond the fact that it feels weird drawing characters checking the time by looking at their phone instead of a watch. But Phoebe doesn't wear a watch anymore. She used to, on her left upper arm, though. The 90's were weird, man.