Puck 492
on 
April 29, 2019
at 
9:34 pm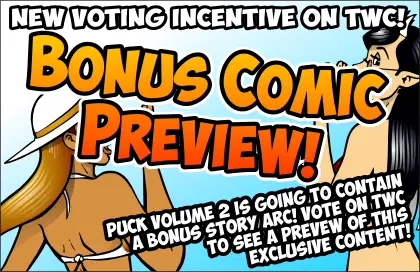 NEW MAY VOTING INCENTIVE UP NOW!
More bonus car wash comic stuff! Good times!
VOTE TO BE SO VERY, VERY KIND!
As for this comic…
I just want to make it known that there is currently an alternate punch line to this comic posted over on MY PATREON PAGE, so if you're curious, you could always, you know, become a supporter and stuff. Not that I'm hard selling or anything. Just … just soft sell.
For the record, Papa is the kind of smooth talker I most admire: the type who is undeniably smooth, but never really tries. At all. It is an unstudied, uncultured smoothness. He gives little to no thought about what he is about to say, and so he never is at a loss about what to say. I am the exact opposite of this: I wrestle mightily with my own brain during conversations, trying desperately to think of a few decent words to say, and the end result is always a disaster. But not Papa. Papa is fearless, and instinctive, and just a little bit dumb, and that makes him a conversational genius.