Puck 513
on 
September 23, 2019
at 
10:09 pm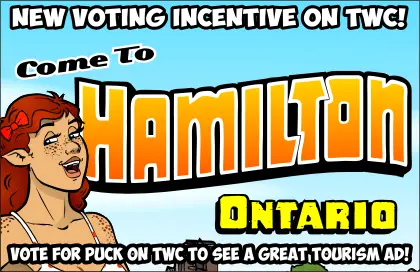 SEPTEMBER VOTING INCENTIVE FOR ALL!
So the deal here is that I've been working on background images for that bonus comic I keep working on. I had some backgrounds of scenery from my city drawn and colored but nothing that would make a good voting incentive. So I quickly drew a pic of Puck, smacked something together and the end result actually looks pretty good!
VOTE TO BE THE BEST YOU CAN BE!
As for this comic…
So last week, there was a lot of speculation as to who the prom king and queen would be. And now you have your answer. At least partially. There may be more to this whole situation. Just … just wait. Next week, there may be an addendum.