Puck 520
on 
November 11, 2019
at 
10:12 pm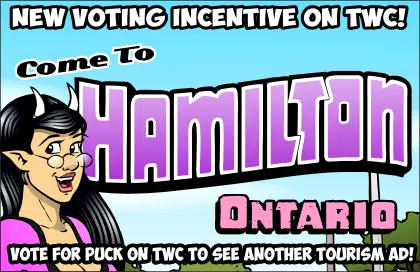 NOVEMBER VOTING INCENTIVE FOR ALL!
So the deal here (again) is that I've been working on background images for that bonus comic I keep working on. I had some backgrounds of scenery from my city drawn and colored but nothing that would make a good voting incentive. So I quickly drew a pic of Phoebe, smacked something together and the end result actually looks pretty good!
VOTE TO BE AN ENGAGED CITIZEN!
As for this comic…
Hey look, it's the second 'Daphne covers her face while sitting under a spotlight' in this one story arc! Though this time it's the third panel, not the fourth panel. And the location is different. And … look, sometimes I get a little repetitive without even intending it. I apologize.
In the actual hall where this comic is set, the women's washroom is not right next to the men's washroom. Rather, it's on the far side of the room. But I thought this visual setup was just too good, so I bent time and space to accommodate it.