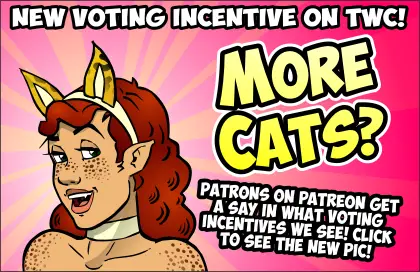 VALENTINE'S DAY CAT STUFF! AGAIN?
Last year we somehow got on this 'Valentine Cats' thing, and it's back for some reason. A new voting incentive pic is going to be popping up each week, so…
VOTE FOR OLD DEUTERONOMY'S SAKE!!!
As for this comic…
The roles come into greater focus. Slowly but surely. The gang is almost assembled. And for those who don't remember (or haven't read this far back in the archive), Puck is referring to their escapade at Canada's Funderland where Children's Aid did indeed get involved.