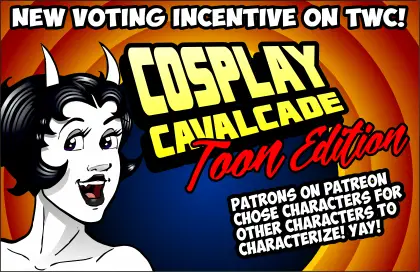 NEW COSPLAY VOTING INCENTIVE!!!
I asked my high-tier patrons on Patreon about cosplay possibilities they wanted to see in a voting incentive. And we've got some wonderful suggestions that garnered a number of votes! So got to TWC and…
As for this comic…
The process of coming up with the monster name was lengthy. I felt that I wanted a definitively Canadian name, and there are a few names that fit the bill. My initial thought was 'Gordie' because there are a lot of Gords in Canada. But nothing is quite as Canadian as a Doug. Yes, there's the legendary Doug Mackenzie, but this is one of those stereotypes that really has some basis in reality. There really are lots of guys named Doug up here. At least there were. (As a teacher, I can accurately report that the name is definitely becoming less popular now with the kids; it's been a while since I last taught a young Doug.) But if you're profiling Canadian dudes currently aged between 40 and 80, at least half of them will probably be named Doug.
And that's … A CANADIAN FACT.