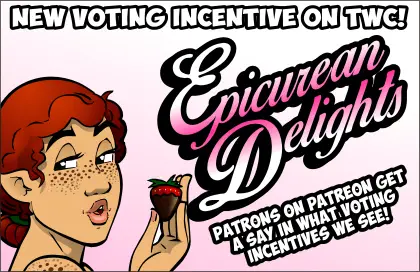 FOOD-THEMED VOTING INCENTIVES!!!
The Patreon bunch voted on various food choices, and the results were … this. So…
VOTE TO PARTAKE OF THE FEAST!!!
As for this comic…
I will just say this: it's actually quite hard to draw a creepy forest. Like, we all know creepy landscapes but do we really know what makes them creepy? Kind of hard to pinpoint. I did my best but honestly, a lot of the creepiness comes down to lighting (or in this case, the color palette) and things like fog. Hopefully it works because this is one of those rare occasions where the punch line rides entirely on the atmosphere of the location.
Which brings me around to my usual conclusion that I would find it a lot easier to make this comic if I were just a lot better at making this comic.