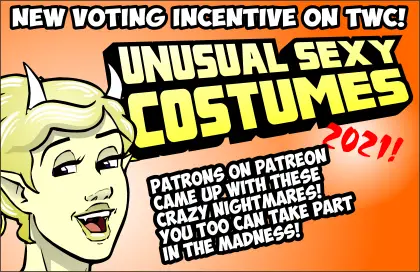 HALLOWEEN TIME!!! NEW VOTING INCENTIVES!!!
The Patreon bunch came up with some 'interesting' suggestions, so check the results out!
As for this comic…
This story arc is challenging my ability to to depict darkness in drawing form. See, in reality, if the gang were stationed at the roadside of an unlit highway at night, we would see pretty much nothing but darkness. But that makes for a bad comic, so I've opted to sort of emulate the Hollywood cheat where there's an obvious directional light that's cast on the focal point of the shot so that we can see what's going on. That's where those hard shadows come from, I guess: the fake spotlight that doesn't really exist.