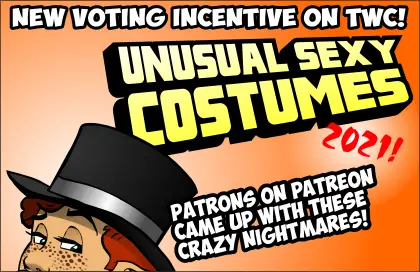 HALLOWEEN TIME!!! NEW VOTING INCENTIVES!!!
The Patreon bunch came up with some 'interesting' suggestions, so check the results out!
As for this comic…
There is another reason why the cast needs to split up, by the way, and it's a very practical one: I'm tired of drawing all six of them in every comic. The amount of work it takes me to draw a comic is usually determined by the number of individual character images contained in the four panels. So the most common (and easy) comic structure has two characters talking in panel one, a close-up of character A in panel 2, a close-up of character B in panel 3, and another mid shot of the two characters in the final panel. Total character images drawn = 4.
Now look at this comic: six characters in panel 1, three in panel 2, four in panel 3, and six in panel 4 (Miranda's head is barely in frame but I'm counting it anyway). Total characters drawn = 19. It's not visually impressive or striking or obviously labor-intensive in any way, but this comic took me forever.
So the gang is splitting up to save my sanity.