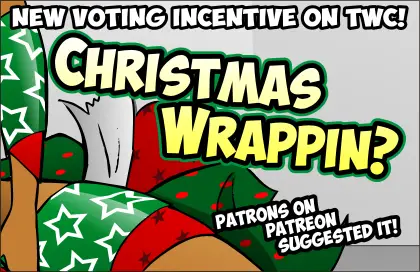 NEW VOTING INCENTIVE! IT'S FINALLY HERE!!!
Just in time for Christmas, we wrapped up a little something for you! It's holly! It's jolly! So…
VOTE TO FIND YOUR PRESENT UNDER THE TREE!!!
As for this comic…
Hard to do a jump scare in a strip comic. But that doesn't stop me from trying.
I enjoy opportunities like the one this particular comic affords: opportunities to extend outside my usual style. I know it doesn't look like it, but I do love highly detailed comic work from the 90's, and I have a love of classic horror comics too that stems from my childhood. They always used their black so effectively to create lighting effects that seemed impossible with the simple print technologies of the time. Trying to channel just a little bit of that here.