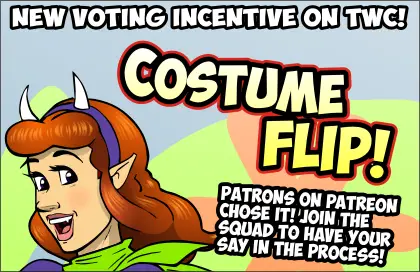 IT'S A NEW MARCH MADNESS INCENTIVE!!!
The folks over on Patreon were curious about what might have been if Puck actually played Velma and Phoebe played Daphne, so if you want to see the first component of that swap…
VOTE TO MAKE THE MAGIC HAPPEN!!!
As for this comic…
Hey all. So I've been dealing with some rather huge shakeups with my website recently. The site just ceased to exist on Wednesday of last week, and it took multiple support tickets to my host to get it back up. For a little while I just thought the site was gone forever. I've also run into some fairly nasty issues with my ad service. I'm hoping I can resolve these problems, but … we will see.
In short, the site's got some issues and may potentially cease to exist (either for a temporary span of time or permanently) at any point in the next little while. I'm working hard to keep it up but the universe seems to be conspiring against me. In the event of an emergency, I'll post updates to Twitter and Facebook and such. But I thought I should give everyone a warning.