Puck 645
on 
April 4, 2022
at 
9:54 pm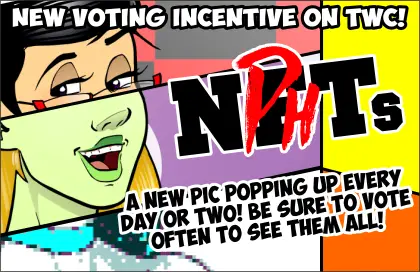 IT'S NFTs WITH A PHOEBE TWIST! IT'S NPHTs!!!
Okay, so they're not really NFTs. I'm not getting anywhere near the blockchain. But these are even better! Each non-procedurally-generated NPHT will be 'minted' to one of my high-tier Puck patrons – and they'll know it's theirs because their names will be on them! A new NPHT will be popping up every day or two all throughout April, so vote often to see 'em all!
VOTE TO TAKE IT TO THE MOON!!!
As for this comic…
The peril of working with digital art is the unfortunate fact that most art programs are prone to crashing. I take great pains to avoid problems this way, so beyond just saving my file, I save multiple backup files by different names as I go along. It's a bit of insurance in case the file itself gets corrupted by a faulty save.
This week the file itself got corrupted by a faulty save. And the auto-backup got corrupted too. The end result was that I lost two hours of work in a heartbeat. It could be worse, of course. But when you're always pressed for time and never have enough hours in the day, a loss of two hours can be outright devastating. Such is the dangerous life of the digital artist, though.