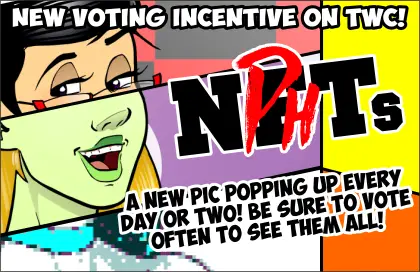 IT'S NFTs WITH A PHOEBE TWIST! IT'S NPHTs!!!
Okay, so they're not really NFTs. I'm not getting anywhere near the blockchain. But these are even better! Each non-procedurally-generated NPHT will be 'minted' to one of my high-tier Puck patrons – and they'll know it's theirs because their names will be on them! A new NPHT will be popping up every day or two all throughout April, so vote often to see 'em all!
VOTE TO TAKE IT TO THE MOON!!!
As for this comic…
One might say the only thing worse than being fake-stranded on the roadside is being strung along by a comic that fake-promised a convention arc, then fake-promised a monster story, then revealed the whole thing was ultimately meaningless. One might say such a thing. Especially if said story arc has been running since 2020. One might say just such a thing.