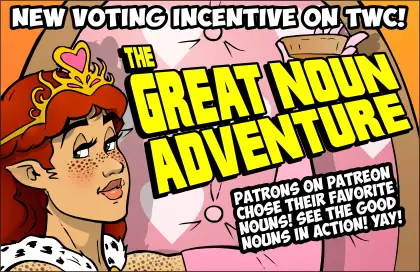 The GREAT NOUN ADVENTURE RETURNS!
A year ago we did a big, weird noun-voting experience over on Patreon with my $5+ patrons and this year it came back with much fanfare! And now you get to see the bizarre results! It's a pile of weird nouns just thrown into a blender. What will result? Well…
VOTE TO EXPOUND WITH A GREAT DEAL OF NOUNS!!!
As for this comic…
Herein lies the primary saving grace of Puck. She is cynical, and belligerent, and selfish, and (to be honest) a list of her many failings would likely stretch straight to the horizon. But she is somewhat self-aware, and is somewhat willing to grow. She knows that she should rightly be a better person, and periodically makes baby steps toward achieving that goal. She is not very consistent in her quest for self-improvement, nor is she very good at it, but the thought is there.
And that's gotta be worth something.