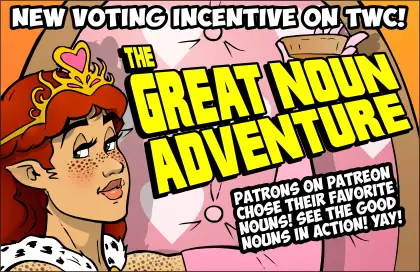 The GREAT NOUN ADVENTURE RETURNS!
A year ago we did a big, weird noun-voting experience over on Patreon with my $5+ patrons and this year it came back with much fanfare! And now you get to see the bizarre results! It's a pile of weird nouns just thrown into a blender. What will result? Well…
VOTE TO EXPOUND WITH A GREAT DEAL OF NOUNS!!!
As for this comic…
Running a little late, but got the comic up. Yay.