Puck 716
on 
August 14, 2023
at 
10:46 pm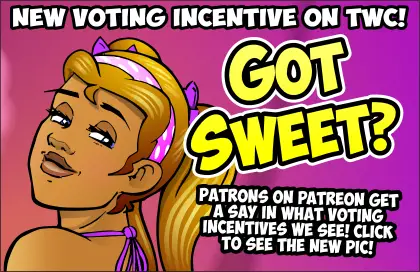 AUGUST INCENTIVE ON TWC!!!
It's sweet. We're doing a flavor thing. I dunno. Just go with it.
As for this comic…
So this comic finally (FINALLY) establishes the canonical explanation for the shadow on Satan. Originally it looked like the shadow might just be location-based and a feature of his office, but then we saw that it followed him no matter where he went, even when outside in broad daylight. So yes, the shadow is magical, but it looks like it might not be a permanent fixture. Kinda takes the 'eternal' part out of the 'eternal damnation' thing. Oh well.