Two Cool Things
on 
May 17, 2014
at 
7:40 am
Cool Thing #1: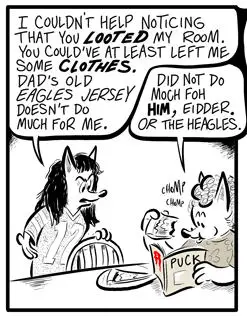 My friend Dennis Hyer, who does the amazing webcomic Inhuman Relations, recently did a series of comics that showed Maureen's mama reading a Puck book. (Maureen's mama is my favourite character by far.) If you look closely, you'll see a definitive shock of red hair on the back cover. Dennis told me that Puck is, in the Inhuman Relations universe, some type of fox. Sounds right.
And if you haven't ever checked out his comic, please do so. Inhuman Relations is simply the best slice-of-life comic out there: wickedly intelligent, with wonderful dialogue, a great cast of characters and a New Jersey toughness that just makes it all come together. He also has a classic ink-and-paper style that is beautiful to look at — and hard to do. (Check out the precursor to Inhuman Relations, Mullein Fields, which is now available in print for ten bucks! I bought my own copy recently, and it's loaded with 'Calvin and Hobbes' style intelligent kid-based humor.)
Cool Thing #2:
The nice people over at Top Web Comics did a little profile of the original black-and-white Puck comics for Web Comic Wednesday. It's very kind, and mercifully doesn't mention the fact that all the old Puck comics look like total ass. Thanks guys! Your site rocks.