Car Wash Caper 1
on 
January 9, 2018
at 
1:00 am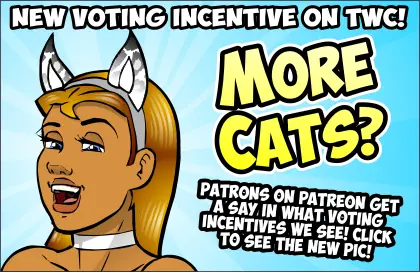 VALENTINE'S DAY CAT STUFF! AGAIN?
Last year we somehow got on this 'Valentine Cats' thing, and it's back for some reason. A new voting incentive pic is going to be popping up each week, so…
VOTE FOR OLD DEUTERONOMY'S SAKE!!!
As for this comic…
This chapter of comics was generated originally as a bonus series for the 'Puck Volume Two' print book that never really happened. I decided to post it to the main site because … why not? It fits into the main arc, it's canon and it's fun. I had to do some juggling with chapters and such in order for this to show up in the right place in the archive, but hopefully it works. Fingers crossed.