Puck 424
on 
January 8, 2018
at 
10:36 pm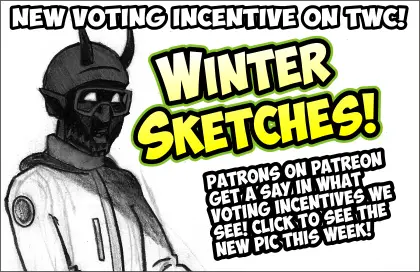 NEW VOTING INCENTIVE!!! WINTER SKETCHES!!!
January will be devoted to some winter activity sketches to get us in the seasonal mood! Vote to see this week's offering! (And remember: fans who donate $5 or more a month get a say in what voting incentives run! If you want to join their controlling ranks, HEAD ON OVER TO PATREON and join the select club!)
VOTE FOR PUCK BUT ONLY IF YOU WANT TO!!!
As for this comic…
After I had this surgery, I reported that I was in a lot of pain. They asked me to quantify the level of pain, and I shouted, "A LOT! OF PAIN!" So they gave me, like, a whole bunch of Percocet and sent me home. Though to be honest, my reaction to the stuff was not at all like Colin's. I found they kind of did nothing. They didn't really help much with the pain beyond what Tylenol could do, and I didn't really experience any, um… other effects. So I stopped taking them. The end.
The real story was boring so I fabricated a funnier one.
For the record, I had NO idea what Colin would say in panel three until I sat down to type in the text for the speech bubble. I decided to just write down a stream-of-consciousness flow, putting down whatever stupid idea first popped into my mind. This is what we got. I have no explanation.