Puck 180
on 
March 25, 2013
at 
9:01 pm
NEW VOTING INCENTIVE UP! APRIL SHOWERS BRING … FULL FRONTAL NUDITY!!!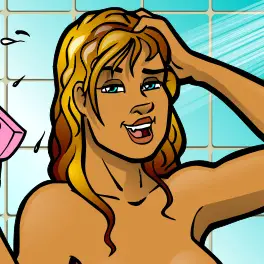 It's April, and that means another Puck voting incentive on TWC! This time we're going whole hog! It's all coming off, with Tracee! She's evil, she's hot, and she's getting clean! Seriously, how has this chick NOT gotten her own voting incentive yet?
I had some troubles uploading this image to TWC, but I think I've got them fixed now.
As for the comic…
My wife really liked this one. "It's so true," she said. "I'm sorry, but it is." Which is why I put it in the comic. Because no one knows idiot men like an idiot man!
The 'silently stewing rage' shot of Puck in panel two is, I believe, the scariest image I've ever drawn of her. Something about an angry pregnant redhead is just insanely terrifying for me.
Vote for Puck on TWC and celebrate all that March has to offer … by celebrating all that Phoebe has to offer! Shameless as usual!!!
This particular voting incentive is no longer up on TWC, but you can GET IT AT THE STORE, along with all the other incentives, for a few bucks!