Puck 181
on 
April 1, 2013
at 
9:23 pm
NEW VOTING INCENTIVE UP! APRIL SHOWERS BRING … FULL FRONTAL NUDITY!!!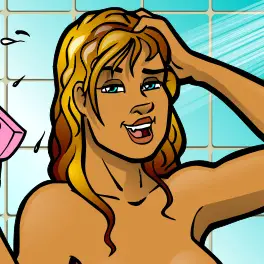 It's April, and that means another Puck voting incentive on TWC! This time we're going whole hog! It's all coming off, with Tracee! She's evil, she's hot, and she's getting clean! Seriously, how has this chick NOT gotten her own voting incentive yet?
I had some troubles uploading this image to TWC, but I think I've got them fixed now.
This particular voting incentive is no longer up on TWC, but you can GET IT AT THE STORE, along with all the other incentives, for a few bucks!
As for the comic…
Herein lies the bizarre conundrum of the final stages of pregnancy: a choice between a brief (but not brief enough) explosion of sheer agony which is labour, or the prolonged, irritating and incessant annoyance which is pregnancy. There's no winning here.
On other fronts, I think Daphne's shirts and Phoebe's shirts are in a perpetual war for the most attention.