Puck 186
on 
June 10, 2013
at 
4:47 pm
I hereby announce that this is the beginning of the end of the pregnancy storyline. Baby by strip 200 or bust, man.
The legends about various pregnancy-inducing foods are legion and, in my opinion, all totally false. That's the problem with anecdotal evidence: some woman (who was already incredibly pregnant and ready to give birth at any second) eats lots of something and then gives birth! OBVIOUS CAUSATION!!! Couldn't ever just be mere coincidence. Ever.
I can tell you one thing: in this case, the cinnamon buns aren't going to have anything to do with it.
JUNE VOTING INCENTIVE IS IN THE HOUSE!!!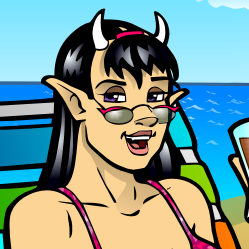 The warm weather is here, the parkas have come off, and it's time to celebrate all that swimwear has to offer. Hit the beach with Phoebe! A vote for Puck on TWC will get you access to this rather special pic – guaranteed to include all of the following: sun, surf, sand, bikini, and palm tree. In no particular order.
This particular voting incentive is no longer up on TWC, but you can GET IT AT THE STORE, along with all the other incentives, for a few bucks!