Puck 187
on 
June 17, 2013
at 
5:30 pm
True story, man.
Well, I wasn't pregnant at the time, and I didn't assault any mall security, but I DID go to my usual cinnamon bun supplier at the mall a few months ago to find it had closed down. I was with my kids, and we all cried tears of frustration and sadness. There was no sign to inform us that the store was actually only closed for relocation, nor that the store would reappear in a larger location a few weeks later. At the time, we just knew that it was gone. Rather disconcerting.
I mean, where else can you get your Cinnabomb fix?
JUNE VOTING INCENTIVE IS IN THE HOUSE!!!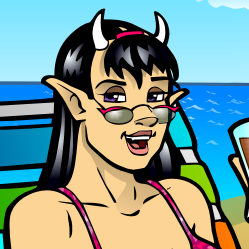 The warm weather is here, the parkas have come off, and it's time to celebrate all that swimwear has to offer. Hit the beach with Phoebe! A vote for Puck on TWC will get you access to this rather special pic – guaranteed to include all of the following: sun, surf, sand, bikini, and palm tree. In no particular order.
CLICK HERE TO VOTE FOR PUCK!!!