Puck 188
on 
June 24, 2013
at 
9:14 pm
Fly, you fools! FLY!
FYI: In works of fiction, a woman's water breaking is always the first thing to happen in labour. In movies, there's never a slow build-up of contractions or anything. Just BAM, water breaks. This does sometimes happen (it happened with my wife's first pregnancy), but not often. It's hackneyed and ridiculous, but I'm going with it! Because I have no choice! The fiction police would give me a ticket if I didn't!
July Voting Incentive NOW UP!!!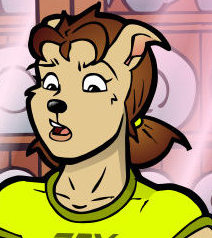 It's July, and that means Puck's pulling out ALL the stops by giving you a voting incentive that has everything you ever wanted! And when we say everything, we mean EVERYTHING!
CLICK HERE TO VOTE FOR PUCK!!!