Puck 205
on 
October 21, 2013
at 
8:23 pm
Picking on Colin is a little like kicking a one-legged puppy: it's so easy and mean and one-sided. And yet it's still funny. Why?
In other news, dark forces have forced me to join the world of Twitter. If you are also a Twitt, and you wanna follow some tweets or something like that, you can find me in TWITTERLAND HERE. I'm not going to be tweeting constantly, because the site annoys me, but I'll certainly post about strip updates and news and the like. ('Tweet', in my personal opinion, is the stupidest verb I've ever encountered.)
OCTOBER VOTING INCENTIVE: THE SAUCY PUCK HALLOWEEN COSTUME!!!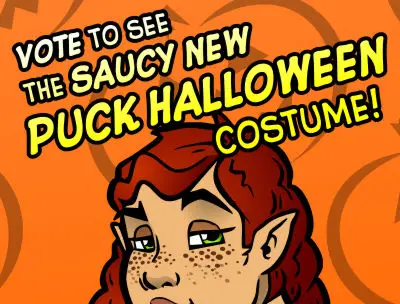 Halloween approacheth, and that means an outrageous Puck costume is coming your way! What kind of Puck costume? Well, vote for Puck on TWC and find out! (The new voting incentive drops October 1st, so if you're quick off the mark for checking this post, you might have to wait a few hours for the month to turn over.)
CLICK HERE TO VOTE FOR PUCK!!!