Puck 204
on 
October 14, 2013
at 
9:24 pm
This kind of stuff is just way too crazy to not be based on real life. And here's where I don't really side with the militant breastfeeding brigade. If it works, great. Yes, it's 'nature's way,' and it's a heck of a lot cheaper than formula, but the brigade swears up and down that all women can breastfeed, with ease, and produce enough milk to feed a million babies. When they can't.
And I know I'm likely going to get a member of the brigade writing in the comments saying "Yes, ALL women can breastfeed with ease, and if they can't, they haven't had the proper training, or they just aren't trying hard enough," but you know what? No. My wife tried. Hard. And it didn't work with the first kid very well. On the second kid, it worked, but it required so much dedication (feeding every hour or two, even at night, for three months) that it almost killed her.
How come no one is campaigning and saying, "Hey, you know what's best for baby? Having a mother who is NOT terminally sleep-deprived and going out of her f#$@ing mind!" No one says that. Except me. I say that.
OCTOBER VOTING INCENTIVE: THE SAUCY PUCK HALLOWEEN COSTUME!!!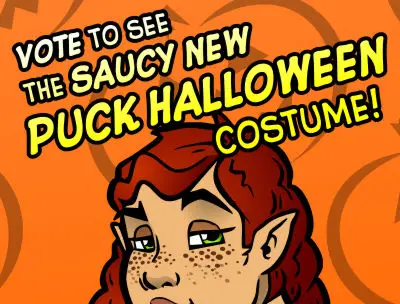 Halloween approacheth, and that means an outrageous Puck costume is coming your way! What kind of Puck costume? Well, vote for Puck on TWC and find out! (The new voting incentive drops October 1st, so if you're quick off the mark for checking this post, you might have to wait a few hours for the month to turn over.)
CLICK HERE TO VOTE FOR PUCK!!!