Puck 211
on 
December 9, 2013
at 
9:41 pm
Okay, I have a bunch of neat stuff to promote this week.
First off, I did a podcast with Jason Love over at his site, jasonloveslife.com. We talk about the business of webcomics mostly, with stuff on how to promote and market your comic online. Plus you get to hear my rich, chocolaty voice!
Second, I have cool announcement to make!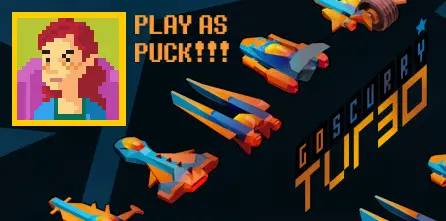 My good friend Daniele Giardini, an Italian video game designer, just put the finishing touches on his indie game, GOSCURRY, and he actually put Puck in the game as one of the avatar choices for players! This makes Goscurry the first video game to ever feature Puck! It's only six bucks, and it's an insanely good game! I plan to do a full review of Goscurry because I love it so much, but let's put it this way: it's the hardest fair game ever made, in my opinion.
HARDEST. FAIR GAME. EVER.
You know those murderous sections in Battletoads where you're riding the unicycles or the speeders? Well, make those harder and randomize them, and you get an idea of how hard we're talking. It's beyond Nintendo hard. And yet it's very, very fair. When you die, it's always your fault.
So to put it simply, guys, buy it. It's a great game with endless play value and an insanely catchy soundtrack. And I'll see YOU on the LEADERBOARDS. (Let me know if you beat my high scores. I challenge you to beat them!)
DECEMBER VOTING INCENTIVE: ROB FORD VS. SATAN?!?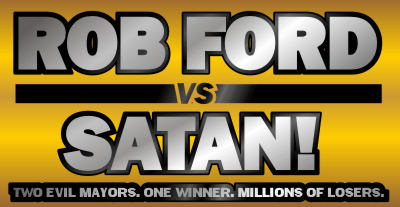 In a competition of evil, which frightening mayor in southern Ontario would actually win? I had to do this. Do you know how often I can pull off a joke about local municipal politics and have an international audience get the joke? Never. Until now.
CLICK HERE TO VOTE FOR PUCK!!!