Puck 231
on 
April 28, 2014
at 
9:03 pm
My wife hissed with anger when she read this one. "Way to swiftly and effectively eliminate whatever gravitas she had with his family before she even meets them," she said. "Colin's an idiot. He's well-meaning, but he's an idiot."
I couldn't have said it better myself.
Oh, and for those of you who live in a part of the world where there is no Wendy's, I can't really help you with this. Just Google it.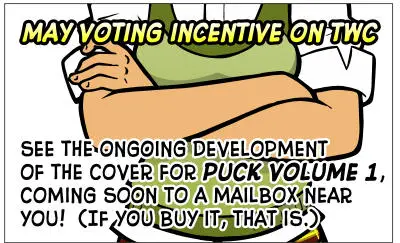 NEW VOTING INCENTIVE! FOLLOW ALONG AS I CREATE THE COVER FOR PUCK VOLUME 1!
Every week, or more than every week, I'll be updating the voting incentive image to show the ongoing development of the cover for Puck, Volume 1 as it slowly gets completed. And in case you didn't figure it out yet, YES! Puck is finally coming to print!
More on that soon!
CLICK HERE TO VOTE FOR PUCK!!! EVERY VOTE KILLS AN EVIL CLOWN … SOMEWHERE!