Puck 230
on 
April 21, 2014
at 
9:27 pm
This is about as close to negativity as Phoebe ever gets right here. Her anger scale ends where Puck's begins: at the simmering stage.
No fear: our girl Puck will actually make an appearance in her eponymous comic next week. It's been a while.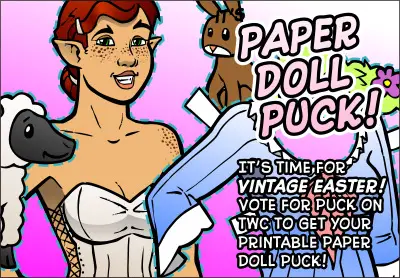 NOT NEW VOTING INCENTIVE! PAPER DOLL PUCK – VINTAGE EASTER EDITION!!!
No new voting incentive this week, I'm afraid. People haven't been very into these paper dolls this time around, so I think I'll call it quits while I'm ahead. The Easter one is still up if you missed it, though!
CLICK HERE TO VOTE FOR PUCK!!! IT MAY OR MAY NOT EARN YOU A STUFFED BEAR!