Puck 233
on 
May 12, 2014
at 
9:35 pm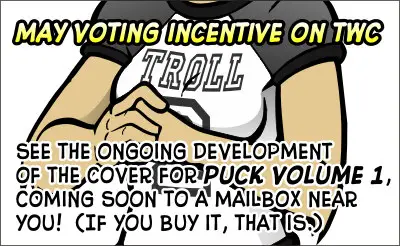 NEW VOTING INCENTIVE! Follow along as I work on the cover for Puck Volume 1!!!
I'm slowly but surely generating the cover for Puck Volume 1, and you can watch the progress by voting on TWC. I'm updating the image at least once a week, so be sure to check back!
CLICK HERE TO VOTE FOR PUCK!!! IT'S SATISFYING LIKE LEMONADE!
And as for this comic…
Coming up with the character design for Colin's sister was actually really easy. I just took his face, narrowed it slightly, removed the beard and added lipstick and eyelashes. I was surprised by how well it worked.